Posted: 28 September 2018 at 9:44pm | IP Logged | 6
post reply

---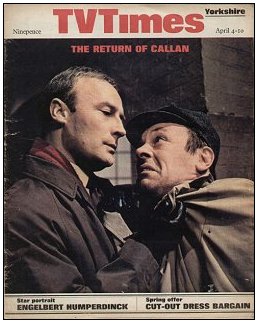 Callan is one of my favourite series. As a child the simple but iconic title sequence with the swinging light bulb made a strong impression (my dad used to watch it and sometimes we'd see the beginning before being sent off to bed!).
Although, as Rob mentions, a lot of the monochrome episodes are missing, luckily all the key episodes still exist. The first series of six had only been a moderate success and, partly due to the ITV franchise changes of 1968, series two sat on the shelf for the best part of a year. When it finally aired it was a massive hit and instead of ending as originally planned, it was decided to continue with a new series in colour. This entailed getting Edward Woodward back in the studio months after production had finished to record a single line of dialogue.
The surviving black and white episodes include the Armchair Theatre episode A Magnum for Schneider which survives as a 16mm film recording (made from the original master tape for overseas sales). This had originally been written by James Mitchell for a BBC anthology series but when he realised it was unlikely to get made, he bought it back from them and took it to ITV. The decision to make a series was made before Magnum had been transmitted.
Episodes one and six of series one survive on their original 405-line master tapes. Sadly only optical conversions (camera copies) have been made of these episodes. Episode one is interesting as it begins with a scene that effectively ignores A Magnum for Schneider. Presumably this was for the benefit of viewers who had missed Armchair Theatre but must have been slightly jarring for those who did see it.
Nine of the 15 series two episodes have survived. Six of them, including what I would call the four key episodes, were converted to 625-lines for a repeat run in 1971. Two others exist on the original 405-line tapes and one, The Worst Soldier I Ever Saw, exists only as a studio recording reel. An edited version was produced for the DVD collection. New opening and closing titles had to be created as they weren't made during the original recording.
Another interesting thing about The Worst Soldier is that the original series one Hunter (Ronald Radd) makes a return. The reason for this is that the next episode (Nice People Die at Home, which still exists) was made during production of series one. No-one seems sure why a seventh episode was made as the intention was only ever for a six-week run. They wanted to show the episode as part of series two but it couldn't be transmitted in its original form. In addition to Radd returning in The Worst Soldier, the following day six new scenes were recorded to be edited in to the master tape of Nice People.
I strongly recommend getting hold of the
Callan - This Man Alone
set in addition to the Monochrome Years collection. As well as the documentary that Joe mentions, it includes improved transfers of
A Magnum for Schneider
and
The Good Ones Are All Dead
(series one, episode one). It also features the complete studio recording reel for
The Worst Soldier I Ever Saw
.
This includes re-takes of some scenes and film sequences being played in at the relevant points (to aid in the editing process). As the episode nears its climax the recording process becomes more disjointed as the action scenes are staged. It's a fascinating look at how a multi-camera studio drama was produced.
The set also includes The Edward Woodward Hour, a variety show (Woodward sang well and had a successful recording career) that features a sketch that is a crossover between Callan and the sitcom Father Dear Father. Add some film material of James Mitchell, image galleries and a PDF archive and you've got a very nice set.
At one point Network were planning a deluxe collection that so far has not materialised but TV historian Andrew Pixley's book,
Callan - Under The Red File
is available for only £3 from their website. Also published is
The Callan File - The Definitive Guide
. Alternatively, this
website
contains a detailed look at the first two series but be warned - it does contain spoilers! A good read for when you've seen the episodes.
Wet Job isn't great but I'm glad to have seen it and Woodward is always watchable.
In 1974 a feature film was made, called simply Callan, that was an extended version of A Magnum for Schneider. It contains one of my favourite scenes between Callan and Lonely. I won't spoil it except to say that it follows Callan's encounter with Arthur! It'll make sense when you see it!
James Mitchell also wrote five Callan novels between 1969 and 2002. The first has been published as A Magnum for Schneider, Red File for Callan and Callan (the latter to tie-in with the film). The Sunday Express short stories have been collected in two collections called Callan Uncovered
The Big Finish audios are based on those same short stories. I've only heard a couple of clips but Ben Miles and Frank Skinner just sound completely wrong to me.
Did I mention that I like this series?!