Posted: 15 October 2017 at 8:23am | IP Logged | 6
post reply

---
Bought this DVD recently: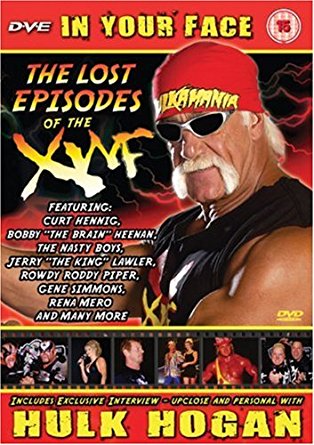 As many of you may know, the XWF appeared not long after WCW was sold to the WWF. It lasted from late 2001 to 2002.
Perhaps partly because of people missing WCW, I remember many at the time stating that the XWF would become a permanent rival to the WWF (wishful thinking, I guess). It didn't happen. Sadly. People also thought the WWA, in existence from 2001 to 2003, would become a major competitor, but that didn't happen, either.
I haven't watched the main disc yet (it runs for 174 minutes and has matches such as AJ Styles VS Kid Kash). But I did choose to watch the 3 bonus features.
The first was an introduction to the XWF. The likes of Gene Okerlund prepared us for the XWF show; Ace Frehley appeared for about a nanosecond; and there was a clip of what was to come.
The second feature was a Q&A session with Hulk Hogan. There were no major revelations, but he talked about what he liked about wrestling, who his favourite opponent was, etc.
The third bonus was a match between Hulk Hogan and Curt Hennig (2001). It was quite short - and was exactly what you'd expect from either man, Hogan dominating early on, Hennig getting some moves in, Hogan making a comeback, etc, etc. Pretty much identical to the matches they had in the WWF, circa early 90s. Not saying that is a bad thing.
I shall watch the main feature at some point.
Looking back, it's a shame no major competitor arose from the ashes of WCW's demise (yes, I know WCW "lives on" but only as part of the WWE video library). TNA, or whatever they are called now, aren't competition. I do remember, and I cannot fault wishful thinking/enthusiasm, people, perhaps even myself, having high hopes for the XWF and WWA in 2001/2002. What saddened me about watching the bonus features on this DVD is that everyone seems to want to make XWF work, many (not just Hogan) express positivity about its future - and yet it didn't last long.

Technically speaking, the XWF, at least its trademarks/copyright, lasted from 2001 to 2011. But nothing happened. House shows were scheduled at various points. The aforementioned DVD was released in 2005. And as 'recently' as 2009, there were talks of a PPV. Whilst the promotion, in a sense, did exist from 2001 to 2011, it was only really active in 2001/2002.
I never really expected any promotion to become a major rival to WWE (that would take time, money and resources), but I feel saddened that, although there are many promotions in the US (and globally), WWE is really the only game in town. Would WWE have been airing shite like the Diva Search, which often dominated RAW, had it been up against a major rival? Food for thought.